New City Manager Jim Lewis Oath of Office - 7/10/23
Community is Invited to Attend!
Oath of Office on July 10th at City Hall For the New City Manager, Jim Lewis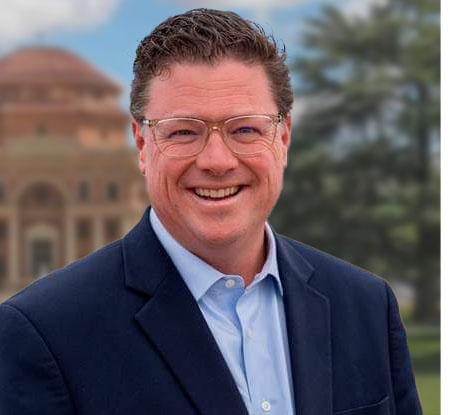 The City of Atascadero warmly invites all community members to attend the ceremonial oath of office for newly appointed City Manager, James R. Lewis, on the front steps of Historic City Hall on Monday, July 10, at 10:00am. Attendees will have the opportunity to meet and mingle with the incoming City Manager, enjoy live music with The Quadratones and light refreshments.
Jim Lewis returns to Atascadero—his hometown—after serving as City Manager for the City of Pismo Beach over the past 10 years. City Council, staff, and community stakeholders are ecstatic to welcome Jim Lewis as Atascadero's new City Manager. Jim Lewis brings to this position more than 28 years of experience in local government, over 20 years of executive management and project management, and he previously served the City of Atascadero as Assistant City Manager and Economic Development Director for eight years.
Jim Lewis has called Atascadero home for nearly 20 years and is deeply involved in the community. As Atascadero's City Manager, Mr. Lewis serves as the City's Chief Executive Officer and will be responsible for delivering major capital projects; facilitating commercial development; enforcing City codes, ordinances, and regulations; managing financial accountability and ensuring the efficient and economical delivery of City services.
Mr. Lewis currently serves on the League of California Cities Board of Directors representing the City Managers of California and on the California City Management Foundation Board of Trustees. He is an International City/County Management Association Credentialed Manager. He is long-time member of the Atascadero Kiwanis Club, Atascadero Bible Church and is involved in Pack 51 Cub Scouts as a Den Leader. He and his wife love living in Atascadero, and they have two children attending schools in the Atascadero Unified School District.
We wish outgoing City Manager, Rachelle Rickard, a fantastic retirement and thank her for more than 26 years of dedicated, selfless service to our community! It is impossible to overstate Mrs. Rickard's positive impact on our community, and we know we will see her around as we continue the trajectory of Atascadero's bright future.
For any questions regarding this media release, please contact Terrie Banish, Deputy City Manager at (805) 470-3490 or tbanish@atascadero.org.