Whether participating in a creek cleanup, sponsoring an event, supporting our local zoo, or helping Atascadero's youth become more successful, volunteers play an important role in our community. For information about volunteer opportunities in the City, please explore the programs and volunteer opportunities below.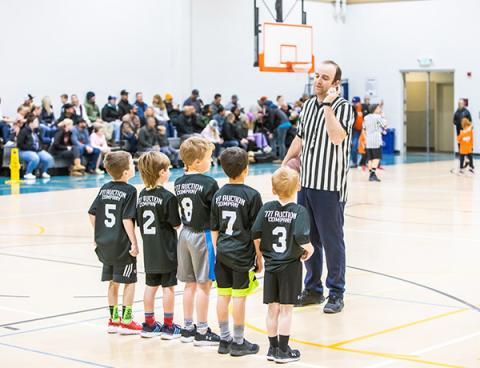 Recreation Volunteers
Become a Coach
For recreation volunteer opportunities, such as becoming a volunteer coach for youth basketball, youth volleyball, and T-ball, please contact the Community Center at (805) 470-3360. A coach's volunteer packet may be picked up at the Community Center located at 5599 Traffic Way in Atascadero, or downloaded here.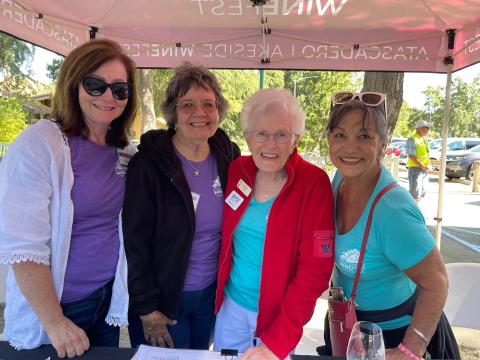 Special Events Volunteers
Donate Time at Variety of City Events
The City is committed to building community by fostering an outstanding quality of life. We strive to offer as many fun activities, special events, and classes as possible to benefit the entire community. There are over 30,000 Atascadero residents and 279,000 San Luis Obispo County residents who enjoy all that Atascadero has to offer. To volunteer your time at a City event, please complete a Special Event Volunteer Application.
Charles Paddock Zoo Volunteers
Donate, Become a Docent, Provide Clerical Assistance & more!
Help with the ongoing needs of the Zoo in the form of food supplies, construction materials, puppeteers, docents, gift shop volunteers, clerical assistance, and financial support.

I want to learn more!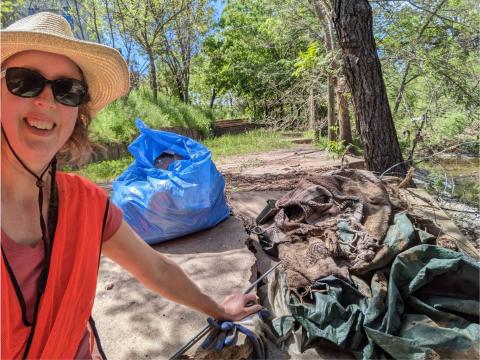 Litter Removal Program
The City's Litter Removal Program provides local residents, businesses, service organizations, and all service-minded individuals with an opportunity to make a difference in our community! This volunteer program is an effort to beautify the community and enhance the quality of life of our residents by removing litter and protecting our local environment. This program serves as both a litter abatement and prevention effort that works proactively with residents, neighborhoods, and businesses toward a shared goal: a clean and beautiful community where we can live, work, play, and do business.

The City provides volunteers with gloves, plastic bags, safety vests, and litter pick-up tools, and arranges to collect the bags of litter that are gathered by volunteers. Individuals or groups can participate! For more information, call (805) 470-3148 or register online.
Police Department Volunteer Programs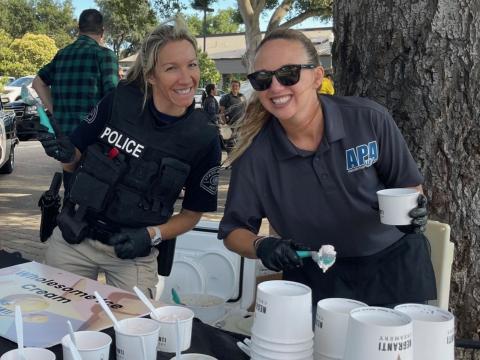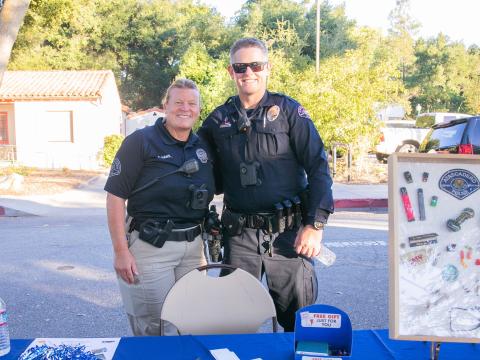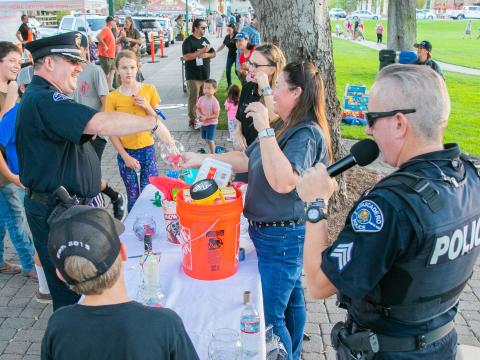 The Atascadero Police Department is very proud of its volunteers. They epitomize the essence of community spirit by giving their time and talents not only to our agency but to many other entities in the area.
Police Chaplains: Minister to our personnel as well as our citizens during a crisis.
The Department's Chaplain program was founded in 1984 with a mission to serve the members of the Department and their families and the members of the Atascadero community. The chaplains are tasked with providing spiritual guidance, counseling, and comfort in times of emotional crisis. They serve as a spiritual bridge between the police and the community in sensitive community relations issues.
The chaplains are ordained ministers in the community who are appointed by the Chief of Police after undergoing a selection process. Membership in the chaplain program is open to all religious faiths. There are currently two chaplains, Rick Comstock, and Brandon Hall, in the program who have completed specialized training programs for police chaplains focusing on ride-along procedures, police-community relations, interactions with victims and witnesses, and crime scene protocol.
Through their training, chaplains learn of the unique difficulties and stress inherent in being a member of a police agency. The chaplain strives to create relationships with the members of the Department that will enable the Department member to seek assistance or counseling at any time for any personal reason. Chaplains are available to assist officers in making death notifications, interacting with and comforting traffic collision and crime victims and witnesses, and counseling individuals including children involved in domestic violence incidents as appropriate. They are also a resource to provide emergency assistance to the community on emergency travel and housing.
If you would like additional information on the Chaplain program, contact Sergeant Kellye Netz at (805) 470-3252 or knetz@atascadero.org.
Reserve Officer: Augment the efforts of patrol, especially during community events.
The Atascadero Police Department offers individuals a challenging opportunity to be of service to their community by serving as a Reserve Police Officer. Reserve Police Officers are unpaid volunteers and they assist the regular members of the Department in their various duties. Our Reserve Police Officers come from a broad spectrum of society. Some have successful careers outside of law enforcement and work as a Reserve Police Officer because of a sense of civic pride and a desire to be involved in protecting their community. Others are contemplating a full-time career in law enforcement and wish to work as a Reserve Police Officer for a few years to gain valuable "hands on" experience.
There are currently several vacancies. If you are interested in a Reserve Police Officer position, please call (805) 461-5051 and request to speak with the Support Services Lieutenant.
VIPS: Outstanding individuals performing a wide variety of duties for all.
Volunteers in Police Services
If you live or work in the Atascadero area and want to volunteer your time and efforts to help serve your community in a rewarding way, the Atascadero Police Department needs you. As a member of the Volunteers in Police Service, or VIPS, you will be providing valuable assistance to your Police Department in essential support functions. From providing Neighborhood Watch patrols and vacation house checks to providing assistance at community special events, traffic direction at accident scenes, maintaining the vehicle fleet, entering data into the computer system, and filing and maintaining records, you will be working "hand in hand" with members of your Police Department. All you need to become a member of the VIPS is a real desire to "volunteer." The exciting areas open for community service in the VIPS are as varied as the skills and interests of the individual members. If you have a technical skill or an area of interest, or just a sincere desire to become involved and help in any way you can, the Atascadero Police Department will channel your energy and your volunteer spirit into a position in the VIPS that will be both challenging and rewarding.
An individual interested in learning about the VIPS will receive an overview of the program, its goals, requirements, and the opportunities for community service. An applicant for the VIPS must submit a City application and a VIPS application, then undergo a driving history and criminal history check, a brief background check, and finally separate interviews with a panel of Police Department members and the Chief of Police. Applicants accepted into the VIPS receive an orientation to the Police Department and its widely varied functions as well as training provided by other members of the VIPS or members of the Police Department staff.
If you are interested in learning more about the VIPS now is the time to act. Get involved in your community and with your Police Department. Explore the exciting and rewarding challenges of becoming a member of the VIPS.
If you are interested in becoming a VIPS program member, contact Police Commander Jason Carr by email to jcarr@atascadero.org, or Lead Dispatcher Anjanette Ordonez at aordonez@atascadero.org.
Service Opportunities
The assignments will depend on the specific skills, abilities and interests of the volunteer and the needs of the department. Here are some examples of activities that volunteers may perform:
Vehicle Maintenance:

Volunteer will transport police vehicles on a regular basis for repair, schedule vehicle repairs and maintenance, keeping maintenance logs and preform simple vehicle maintenance.

Front Desk:

Assisting the public at front counter, filing and copying reports, data entry, and assist with various records duties.

Livescan:

Complete livescan and ink fingerprints for the public.

Vacation House Checks:

Registered homes are periodically checked during the homeowner's absence by volunteers. During a vacation security check of a residence, the volunteer patrols the property to ensure the home is secured and the windows and doors are locked and undamaged.

Traffic:

Transport the radar trailer to various locations in Town, assisting in traffic control, enforce handicapped and fire lane parking regulations, mark and assist in abating unattended or abandoned vehicles.

Special Events:

Provide support at special events such as Colony Day, Cruise Night, Children's Day in the Park and Winter Wonderland.

Transportation/Courier Service:

Coordinate with other agencies to deliver and retrieve reports and evidence to the District Attorney's Office and Forensic Labs.

Property and Evidence:

Assist the Property and Evidence Specialist with duties associated to the property room, help maintain property records, evidence and property purges and support the Evidence Specialist while processing crime scenes.

Patrol:

Trained to provide another set of eyes and ears to detect, report, and prevent crime by patrolling our streets, perform traffic control during vehicle accidents, conduct patrol checks of requested areas and respond to low-priority calls when able.

Records:

providing assistance for research or special projects, entering data from police reports, maintaining filing systems, scanning police reports into Laserfiche, and general clerical work.

Investigations:

Assist the Investigations Unit with general clerical work, prepare assorted documents, mailings and referrals.
Fire Department - Cadet Program
Overview
The Atascadero Fire & Emergency Service's Cadet Program is a unique opportunity for individuals within Atascadero and its surrounding area, between the ages of 16 – 18, to experience fire service. Cadet firefighters are non-compensated volunteers that will spend 3 to 4 hours each day, 5 days a week, working alongside full-time firefighters in all types of situations, both non-emergency and emergency. While on shift, cadets will review curriculum that teaches them how to recognize and safely respond to all types of emergencies. The Cadet Program is a great opportunity to gain real-life experience in fire service and determine if it is a career path worth pursuing further.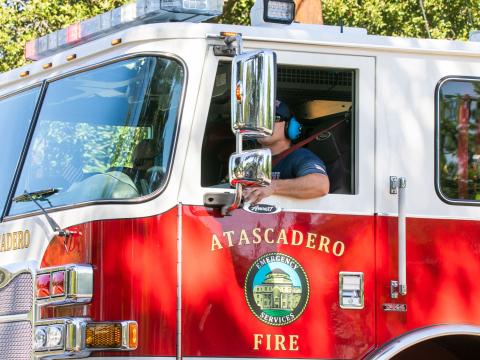 Required Qualifications
• Must be 16 – 18 years of age
• While attending school, must have a cumulative GPA of 2.5 or higher with NO failing grades
• Must be in good physical health
Desired Qualifications
• Current American Heart Association CPR / AED certification
• ICS 100 & IS 700
Interested? Email fire@atascadero.org for an application or more information regarding the position. It may also be helpful to watch the Atascadero Fire Cadet Program video on YouTube for more information regarding the scope of the program and personal perspectives from some of our past participants.
General Volunteer Opportunities
For general volunteer opportunities within the City of Atascadero, please deliver a completed volunteer application to City Hall at 6500 Palma Avenue, Atascadero, CA 93422. Liability release and other additional forms will be required if there is a volunteer opportunity currently available.
Thank you for your interest in serving your community!